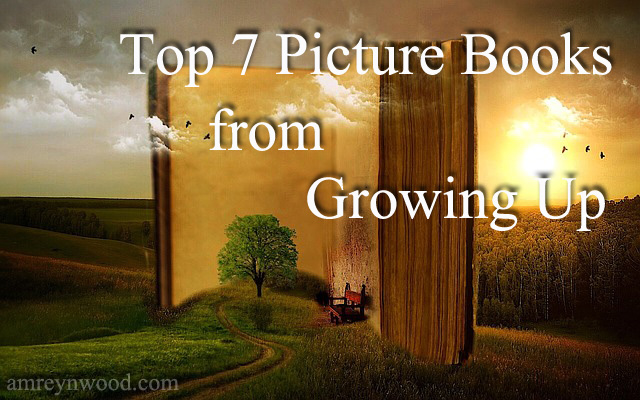 Hey, all! This weekend's been fairly busy so far already (but then, most of them tend to be, around here!) Recently I was glancing through my (growing) bookshelf at some of the picture books that I've loved while growing up, and it got me thinking. These pieces of art don't seem to be as appreciated as other books of larger word counts, but they're precious treasures all the same.
These are the kinds of stories we're introduced to as children, the ones that inspired us to keep reading and feeding our imaginations and developing a love for words and the images they create. I have a fairly long list of my favorites from back in the day, and there are more that I've come across in later years that I can really get into (like Weslandia by Paul Fleischman and Jack Frost by William Joyce), but for now I'll just focus on a few of the oldest ones I can remember.
---
Bamboozled
by David Legge
This is a fun little story about a girl going to see her grandfather, and they go all over his topsy-turvy house trying to figure out just what seems odd about this particular visit. As is turns out ─ his socks don't match! I love to just look at the pictures and take in all the crazy things going on in each page.
---
Chicken Soup with Rice
by Maurice Sendak
This book has been in the family pretty close to if not before I was. Each page has a month of the year and a little poem that describes just how amazing chicken soup with rice is all year round.
Reading once, reading twice, reading Chicken Soup with Rice!
---
Green Eggs and Ham
by Dr. Seuss
Arguably the best Dr. Seuss book ever. Seriously. I don't know why, but this one beats them all. I'm told that when I was really small I would make my dad read it to me just about every day.
---
If You Give a Pig a Pancake
by Laura Numeroff
Beware the dangers of giving a pig a pancake. Just beware. You know what happened when you gave a mouse a cookie, or the moose a muffin? Yeah. Save yourself from a day of exhaustion and messes and DON'T FEED THE PIG.
---
The Princess and the Pizza
by Mary Jane and Herm Auch
I honestly can't tell you when or where I came across this book, but it has to be one of the best ever. Here's an origin story of pizza for the record books ─ an act of desperation by a paupered princess trying to prove her royal blood! You go, Paulina, show them who's boss.
---
The Tale of Three Trees
retold by Angela Elwell Hunt
This is a folktale about the lives of three trees as they dream about their future on a hilltop to what fates actually befall them, and each one marks an important event that took place throughout the life of Christ: His birth, the calming of the sea, and crucifixion. A powerful story for both children and adults.
---
Thunder Cake
by Patricia Polacco
If you know any wee ones who are afraid of thunder, this might be a good book to read them. It tells of a little girl and how her grandmother helped her get over her fear of thunder by going about the farm gathering ingredients to back thunder cake before the storm comes. The best part? The cake recipe is in the back.
---
Now you're up! What are some of your own favorite picture books from growing up? Or maybe you have some that you've only just discovered ─ I'd love to hear about them!