Hey, everyone! Over the last few weeks my non-writerly self has been preparing for a small farm stand bakery business over here on the farm, called the NovelTea Kitchen (neat name, am I right?) It's happening weekly on Fridays, and yesterday was my first day! I think it went fairly well, too.
Today I'm sharing a recipe that's super quick and easy to make: nutty orange marmalade cookies. Reading the ingredients, you'll notice that there's no sugar, but I assure you that's no typo ─ the marmalade in the mix adds its own sweetness! Isn't that awesome? And I'm using my very own homemade marmalade, too! These cookies are lighter and fluffier than regular cookies (kind of like wee cakes, actually) with a nice orange flavor, a hint of spice, and a satisfying nutty crunch. Great for snaking (with a cup of tea!) or a simple dessert after supper (with a cup of tea!)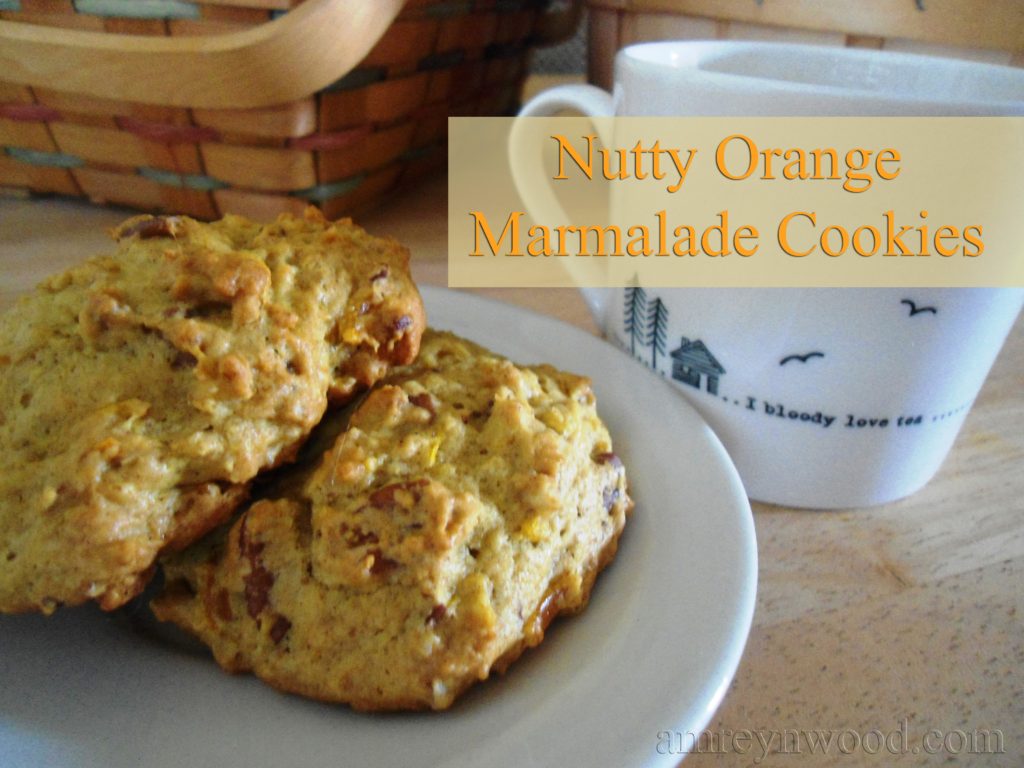 Ingredients:
1/4 cup unsalted butter
1 egg yolk
1/2 cup orange marmalade
1/2 teaspoon vanilla extract
1cup all-purpose flour
1/2 teaspoon salt
1/2 teaspoon baking powder
1/2 teaspoon baking soda
1/4 teaspoon ground cinnamon
1/4 teaspoon ground nutmeg
1/3 cup chopped pecans
Instructions:
Firstly, you'll want to measure out all your ingredients and set them on your workspace (mise en place, people, get your mess in order). Preheat the oven to 350 degrees Fahrenheit and grease/parchment a baking sheet.
Secondly, cream the butter, egg yolk, and marmalade until light and fluffy, which might take a couple of minutes. Once you're looking at an orange flavored pseudo-cloud, add the vanilla. Then combine all the dry ingredients (except the pecans) in a bowl and sift together, then add to the creamed mixture and beat until incorporated. Stir in the pecans.
Drop 2 tablespoon mounds onto the baking sheet about 2 inches apart or so (I got 8 cookies this way) and bake for 13 to 15 minutes until edges are golden. Remove to wire racks to cool.
---
Thinking about it, I bet you could make these with any kind of preserves — can you imagine raspberry? The cookies would certainly be an interesting color! I might have to give that a try . . . once I make more raspberry jam this summer; we've just finished off the last jar. But we've still got blackcap and peach, so there are still options! Oh, cherry and pecan (or chocolate chip) sounds good, or blueberry and walnut, maybe even strawberry and almond . . .
If you try this recipe, let me know what you thought of it, and if you switched it up I'd love to hear about it!