It's October! This is when autumn comes in earnest, when the coloring leaves set the woods on fire, when pumpkins and squash appear everywhere, and all those warm-fuzzy comfort foods are pulled out of the recipe box and dusted off. Bye-bye cold salads and hot dogs, hello hearty stews and casseroles.
Joy is in the air.
Today I'm going to share with you the best squash soup recipe I've had yet. It's thick, creamy, flavorful, and . . . it actually tastes like squash! There are recipes out there with so much added stuff that the squash flavor doesn't really take center stage. Then I came across a good one, but since I didn't have everything it called for, I tweaked it to what I had on hand. It turned out scrumptious, and my tasters said it tasted like Thanksgiving! Who can argue with that?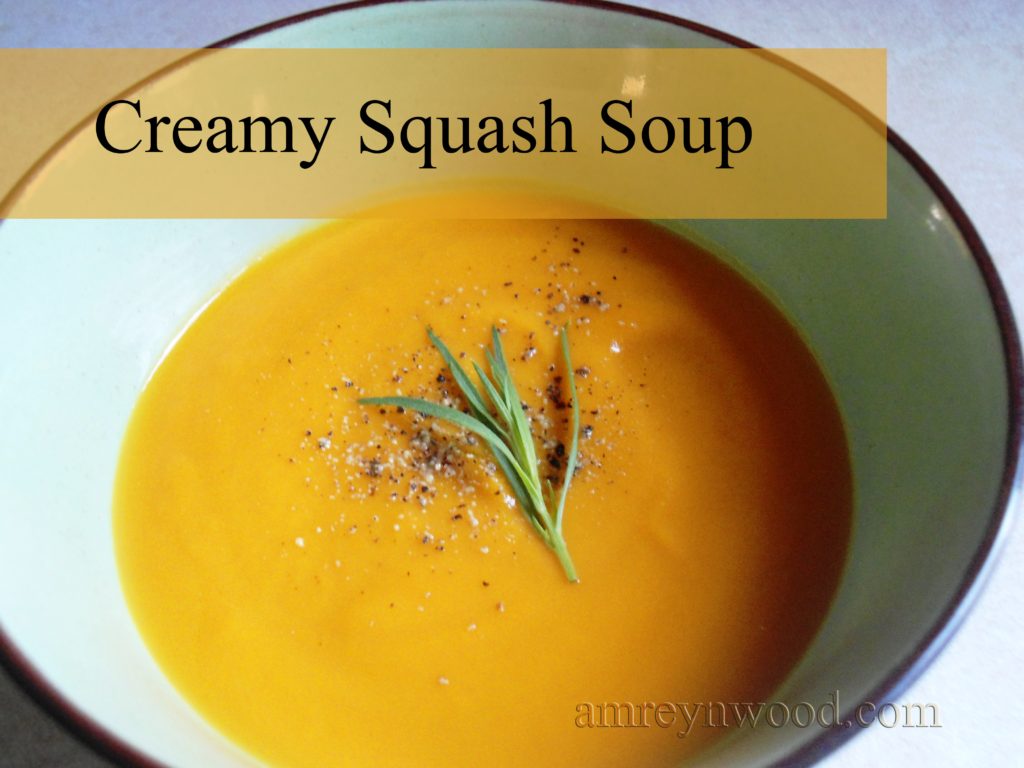 Ingredients:
1/4 cup unsalted butter
1/2 cup minced onion*
3 cups chicken broth
1/2 teaspoon salt
(32oz) squash puree*
1 tablespoon maple syrup
1/2 cup heavy cream
water
Instructions:
Gather all your ingredients, and if you're like me and keep your blender tucked away, haul that out, too.
In a medium saucepan, melt the butter, then saute the onions until translucent. Add the salt and broth. Bring to a boil and cook until liquid has reduced to about 1 cup. Pour into a blender pitcher with the puree and blend until smooth. Return to saucepan and add the maple syrup and heavy cream (the original recipe called for brown sugar, but when you have an overabundance of non-saleable maple syrup, why not use that instead?)
Stir until combined, adding enough water to reach desired consistency. Cook gently until heated through, do not boil. Add salt to taste. Adding pepper will add grainy black flecks to the soup, so use it as a garnish in individual servings for best visual appeal, and voila!
This soup goes well with grilled ham and cheese on rye.
*The original recipe used shallots, but I've never cooked with shallots a day in my life, so I used an onion (which we grow fresh here on the farm). Also, for the squash puree, you can either make your own or buy it in the store. I think it's in the freezer section, I use puree that we make and freeze here at home with the squash we grow.