Hello, my lovelies! How has everyone's November been so far? Can you believe it's halfway over already? I have been so busy with NaNoWriMo that I keep losing track of the time! Can you believe Thanksgiving is next week??? Pretty soon people all over the country will be gathering around the dinner table with friends and family to enjoy a good time and gorge themselves on many, many, many delicious dishes.
Do any of you have a favorite Thanksgiving food, one that you wonder why you don't get more often? My mother makes a wicked cranberry salad, and my grandma makes the lightest and fluffiest rolls I've ever had. One of my personal favorites, though, is a squash apple bake. Just an handful of simple ingredients thrown together to make something positively gobstopping. Perhaps I'll share it with you sometime here in the Reynwood's Recipies blog tab.
Last month I posted a recipe for Pumpkin Rice Krispies, but today I want to share with you another combination of two of my favorite things: bundt cakes and gingerbread. I can hardly get enough of either of these two, bundt cakes are so much fun with all the different shapes you can make with the pans, and gingerbread is a warm fussy for me, full of mildly sweet molasses and spicy ginger. This cake has an extra zing added with lemon zest, giving it a citrusy kick.
Maybe instead of (or in addition to!) the traditional pumpkin and apple pies for dessert, you'll want to surprise your family with this baby.
Are you ready for this?
Lemon Gingerbread Cake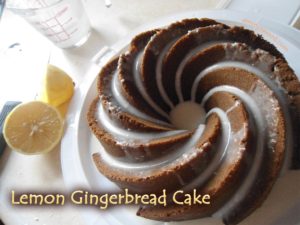 Ingredients:
2/3 cup brown sugar
3/4 cup butter, softened
3/4 cup molasses
3/4 cup boiling water
1 egg
2 2/3 cup all-purpose or cake flour
1 1/2 teaspoons ground ginger
1 1/2 teaspoons ground cinnamon
1 teaspoon salt
1 teaspoon baking powder
1 teaspoon baking soda
1 teaspoon grated lemon peel*
1/2 teaspoon allspice
Lemon Glaze:
1 cup confectioner's sugar
1/2 tablespoon butter, softened
1 to 2 tablespoons lemon juice*
Instructions:
Turn oven to 325 degrees Fahrenheit. Grease and flour a 10 or 12 cup fluted tube pan (I used the  Heritage Bundt Pan from Nordic Ware, made in the USA!) and set aside.
In a large mixing bowl, cream the sugar and butter until light and fluffy (this will take about 2 or 3 minutes). Add the molasses and water, beat well. Add the egg and beat well. Sift together the remaining cake ingredients and add to the batter; mix well, then spoon into the prepared pan.
Bake in the preheated oven for 50 to 55 minutes or until a toothpick inserted near the center comes out clean. Remove from pan and cool on a rack. Serve warm or at room temperature.
For the glaze, in a bowl combine confectioner's sugar and butter. Gradually add juice until it reaches the desired consistency, then drizzle over the cake.
*For those of you who aren't big lemon fans, you can easily substitute the lemon for any other citrus fruit. Try an orange (which I might next time), or even a lime or grapefruit, if you're feeling particularly wild.