Greetings, everyone, and happy middle-of-October! 'Tis the season for apples, squash . . . and pumpkins! Today I want to share with you a glorious combination of two of my favorite things: pumpkins and Rice Krispie treats. Rice Krispie treats are probably one of my top favorite snackey-dessert things, and I have to say, I don't make them enough. For years I've made them the traditional way ─ in a pan and cut into squares. But then, while scrolling through Pintrest with my mom one day, we came across something that made fireworks go off in my brain: Rice Krispie treats in the shape of pumpkins. My mind was blown. I could hardly believe such an ingenious revelation.
I had to try it.
I looked through a couple of different recipes (because when I look for a recipe for a dish, I rarely, hardly ever just go with the first one that crosses my path). You wouldn't think there were so many different ways to make pumpkin Rice Krispie treats, but there are, so I took the elements I liked from this one and combined it with that one and came up with my own. I think I might do some minor tweaking in the future, but for a first shot, I don't think they turned out half bad.
Spiced Rice Krispie Treat Pumpkins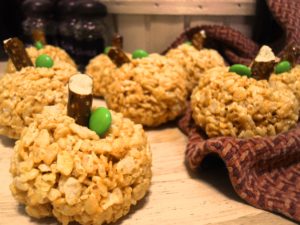 Ingredients:
¼ cup butter
1 bag regular-sized marshmallows (approximately 40 marshmallows)
1/2 tsp cinnamon
1/2 tsp pumpkin pie spice
6 cups Rice Krispies (or any off-brand, they're all the same)
Red & yellow liquid food coloring
Pretzel rods
Green M&M's
Cooking spray
Instructions:
In a large pot, melt the butter over low heat.
Add the marshmallows and stir until completely melted and combined with the butter. Add about 12 drops of yellow food coloring and mix it together, then add about 3 drops of red food coloring and mix until color is uniform. Add red/yellow drops until you reach your desired color. Add spices and mix well.
Add the Rice Krispies and stir to combine. Lower heat on the stove to lowest setting (this keeps the treats from cooling and hardening while you work).
Coat the palm and fingers of one hand rather generously with cooking spray and roll the Rice Krispie mixture into small balls. (I've read where one person coated both sides of both hands liberally with oil after each ball, but I found I only had to spray the one side of one hand at the onset and that served to keep my hands sticky-free for the entire batch. I got thirteen pumpkins.) Reoil your hands as needed.
Set each ball on parchment or waxed paper, and while still warm, press a pretzel stick into the top of each wee pumpkin for the stem and add a green M&M beside it to serve as a leaf.
Enjoy immediately (because why wouldn't you want to?) or cool until firm.
---
Give it a shot and don't be shy to let me know what you think! I'm contemplating on posting a recipe once every month, since cooking and baking are my second biggest passions next to writing. And who knows? We may see some book-inspired recipes show up. Would you like that? Let me know in the comments!