Hello everyone! Can you believe December's halfway over already? Christmas is almost here! Please tell me I'm not the only one running the USPS ragged with packages coming in almost every day. It's so exciting! I can hardly wait to give these gifts to my loved ones.
Now, I know that usually people cook up some special recipes for Christmas, but believe it or not ─ we don't! Outside of gingerbread men, chex mix, and haystacks, my family doesn't make fancy food for the holidays (Christmas Eve we've eaten pizza and wings at my grandparents' for as long as I can remember, and our traditional Christmas dinner is your basic lasagna. Nevertheless, they're both family favorites).
So today I'm going to share with you another of my favorite dinners: Cajun Kielbasa Skillet. It's a simple dish with a handful of ingredients that packs some great flavors and a bit of bite (yes, I'm in favor of spicy food. The only one in the family, too, it seems). I hope you'll give it a try sometime ─ and don't forget to tell me what you think of it!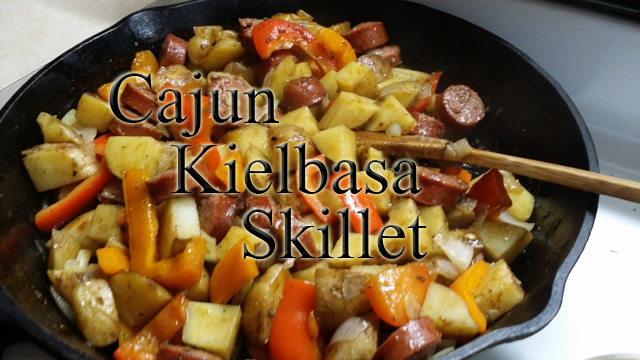 Ingredients:
4 medium potatoes
1 large onion
2 medium sweet peppers (any color, or try a mix! I like to use red and orange ones)
1 lb. beef kielbasa
1-2 teaspoons Cajun seasoning (depending on your taste)
Instructions:
Gather all your ingredients. (This is an important step that I don't practice as often as I should when both cooking and baking. It's worth the extra step, believe me).
Cube the potatoes and chop the onion. Slice the sweet peppers into strips and then cut the strips in half. Cut the kielbasa into 1/2 inch or so pieces.
Heat olive oil in a large skillet over medium high heat and add the vegetables and kielbasa. Cook, stirring occasionally, until potatoes are soft. Add the seasoning and stir to coat, then it's ready to serve!
I made this last night and served it with a batch of baking powder biscuits ─ super delicious!