It's that cycle of the blog again ─ recipes! I try to find ones that I can make and work into the family meal schedule, but on the occasions that I don't forget (*sheepish grin*) we don't end up eating dinner until late, it's dark, and taking pictures would result in unappealing photos. This time of year the schedule is all over the board, too. In this summer season spontaneous sub nights and impromptu meals at the neighbors speckle the menu almost as often as bowls of cereal and burgers.
Nevertheless, here's an item that made it to the table: Rosemary-Lemon Scones. I love scones. Actually, I love them about as much as I love muffins, biscotti, and peaches with cream. These have a fairly damp dough (not one of my favorite things, as it happens) but they bake up light and fluffy. They have a nice, mild lemon flavor that doesn't punch you in the face (because who likes being punched in the face?) and a hint of rosemary. I was so excited that I got to use the fresh rosemary from my herb garden. It smells so lovely, and adds a wonderful aroma and flavor to these scones. Even my mom, who doesn't like rosemary because it makes her think of Vix, said they were good. Double score.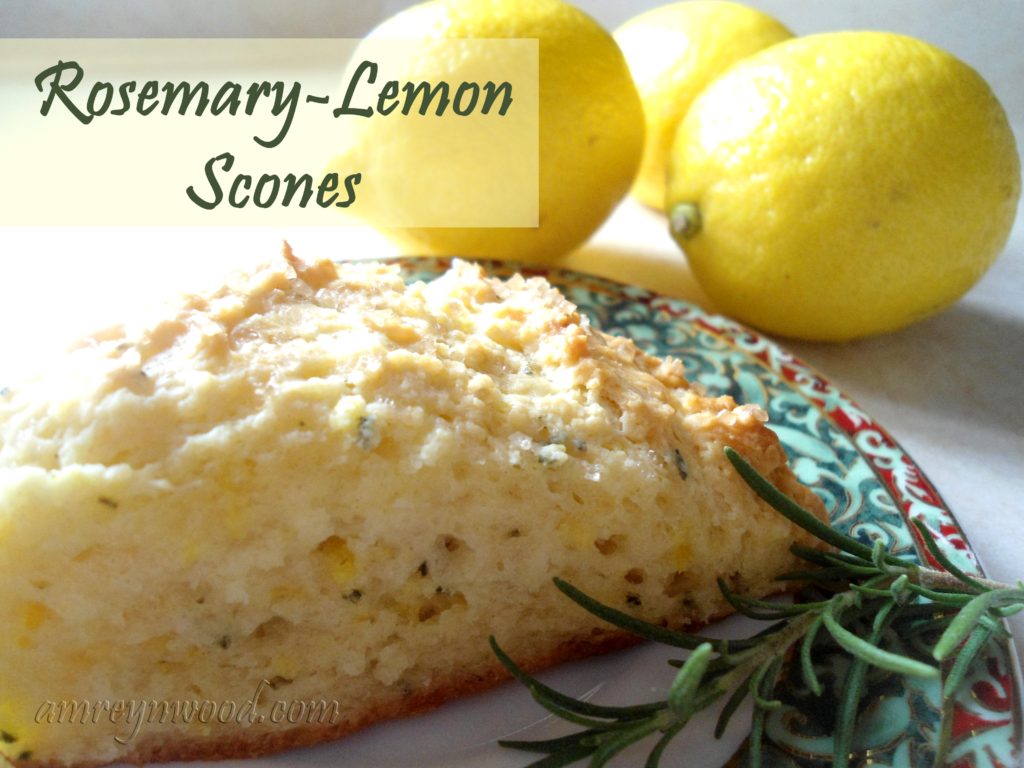 Ingredients:
2 1/4 cups all-purpose flour
3 Tbsp sugar
2 tsp baking powder
1/2 tsp baking soda
1/2 tsp salt
5 Tbsp cold butter
1 cup sour cream
1 small egg
Grated peel of 1 lemon
1 1/2 tsp minced fresh rosemary
Coarse sugar
Instructions:
Gather all your ingredients and preheat the oven to 400 degrees Fahrenheit.
In a large bowl, combine the flour, sugar, baking powder, baking soda, and salt. Cut in the butter until mixture resembles coarse crumbs. (I have found that I like to cheat and use the food processor to cut in my butter, but not always. When I cut it in by hand I've learned that chopping the cold butter into wee cubes first helps make the process much easier).
Whisk together the sour cream and egg, then add to the crumb mixture and stir until moistened, but not too thoroughly. The more you mash the dough the tougher the scones will be. Then mix in the lemon peel and rosemary.
Turn out onto an heavily floured surface and knead gently about 10 times or so; form into a ball. On a greased baking sheet pat into an 8inch disk, then cut into 8 wedges, but don't pull them apart (I wondered at this, thinking it would just bake up into a single, massive scone. As it turns out, though, the slices remain, and the scones just pull apart easy as you please). Sprinkle the top with coarse sugar and bake for 18-20 minutes, or until golden. Cool slightly on a wire rack and serve.
These are good warm or room temperature, as a side at supper, as breakfast, or a snack with a hot cup of tea (*earl grey*).