It's been blistering — or more like stifling — this past week, but thankfully the weather settled down in time for our new roof to come in! Our old house looks so swanky now, with a spankin' new hat on.
This morning came in, dare I say, a bit brisk. I love it. It feels like September, the month of summer's last stand. The month of apples and apple cider and apple cider donuts. Those things are so good when made right . . . and really not when made wrong. Donuts are an anomaly I have yet to master, so today we'll turn savory and go with a tomato dish. Because tomatoes are still coming in force. This one is super simple, really yummy, and it makes a great side dish to meatloaf or chicken!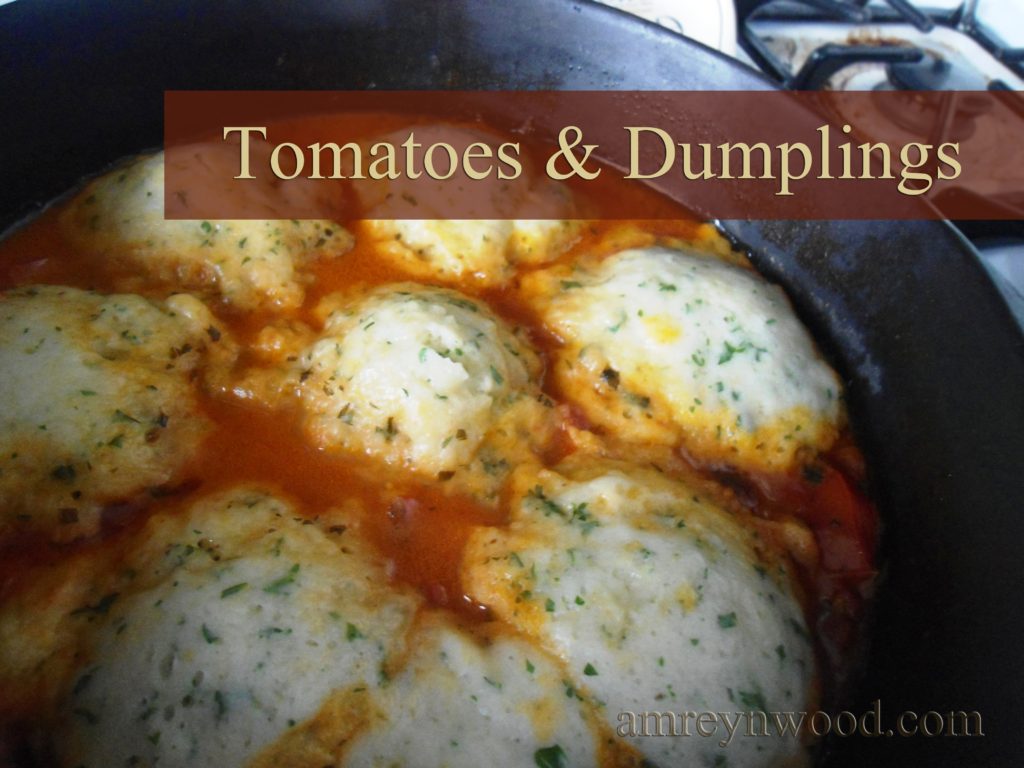 Ingredients:
1/2 cup finely chopped onions
1/4 cup unsalted butter
1 bay leaf
28 ounces diced tomatoes*
1 tablespoon maple syrup or brown sugar
1 teaspoon minced fresh basil, or 1/2 teaspoon dried
1/2 teaspoon salt
1/2 teaspoon pepper
Dumplings:
1 cup all-purpose flour
1 1/2 teaspoon baking powder
1/2 teaspoon salt
2 tablespoons unsalted butter
2 tablespoons minced fresh parsley
1/2 cup milk
Instructions:
Gather your ingredients. In a medium skillet, sauté onion in butter until soft and translucent. Add bay leaf, tomatoes, maple syrup, basil, salt and pepper. Bring to a boil; reduce heat and simmer for 5 ─ 10 minutes, until some of the liquid has reduced.
Meanwhile, in a bowl, whisk together flour, baking powder, and salt. Cut in the butter until the mixture resembles coarse crumbs. Stir in parsley and milk. If the dough is too dry, add more milk 1 tablespoon at a time until it reaches 'drop' consistency (firm enough to hold a shape, but too wet to roll out). Drop by tablespoonfulls over tomatoes, then cover and simmer for 12 ─ 15 minutes, or until a toothpick inserted in the dumplings comes out clean. Discard bay leaf, and serve.
*For the tomatoes, you can use either canned or fresh. I like to use fresh when the tomatoes are in season, and while it's perfectly acceptable to make them concasse, I'm lazy and just chop up the whole tomato. I also like to chop them into a quart jar all the way to the top, and call that enough. It'll also take a wee bit longer for fresh tomatoes to become saucy than canned ones, so keep that in mind as well while you're cooking.