Hello! Happy Armed Forces Day! It's really starting to feel like summer now, right? It's wonderful. I've been able to go on some great bike rides these past few weeks, and I'm loving the fresh air and sunshine. Pretty soon it'll be time to cut and bale hay, which reminds me, I need to replace those work pants . . .
Anywho, this month's recipe I'm sharing isn't so much a dish as a condiment (although there are people out there who have wanted to eat it as one): Caramel sauce. I've made caramel candies before, which don't last long, but this is a sauce that's really great for drizzling over apple pie or dumplings (and don't forget the hunk of cheddar), as an ice cream topping, I used some on a batch of turtle brownies I made for Mother's Day last week, and there have been times when I've taken a scoop cold from the fridge and had it as a dip for apple slices instead of peanut butter. It's really versatile in the ways you can dip, drizzle, and dollop this amazingly buttery-caramely sauce, and it's a breeze to whip up, too!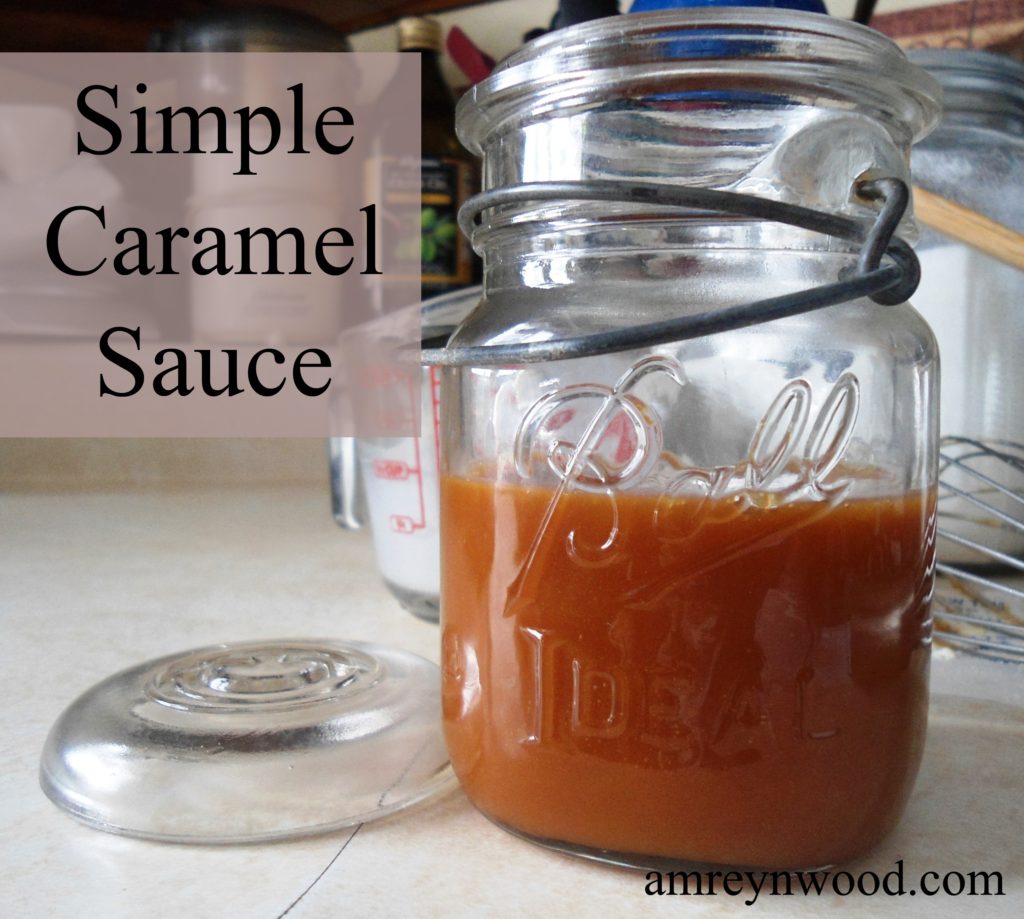 Ingredients:
1 cup granulated sugar
6 Tbsp. butter*
1/2 cup heavy whipping cream
1/2 tsp. vanilla extract (or almond, or rum, or . . .)
Instructions
Gather all the ingredients and tools you'll be using, because this is a quick process and once you get going you don't want to stop, or you'll burn the sugar, and that would be sad. As a heads-up for the tools you'll be needing: heavy bottomed 2 or 3 quart saucepan, wooden spoon, whisk, glass jar (for the finished sauce).
Cook the sugar in the saucepan over medium-high heat until melted and golden/dark amber in color. Stir at the beginning, but as it liquefies you can just swirl the pan. Once all the sugar is dissolved add the butter and stir with a whisk until melted and smooth. The sugar and butter will foam up some, hence the big pot, we don't want overflow. That's a hot mess.
Once butter is melted and mixture is smooth, remove pot from heat and wait a couple of seconds (a slow count to three should work) before slowly adding the cream, whisking as you do. It'll foam up again, but keep whisking until it's smooth. Add the extract, stir, and then pour into the jar. Handle with care, please, this stuff is hot. Let it cool to room temperature before storing in the fridge.
*To switch it up a little, use salted butter, and switch out the extract for salt, making salted caramel. It's pretty good.