Hey everyone! We're already entering into the last week of January! Raise your hand if you feel this month's just flown by. (We were always told that time moves faster as you get older, but who knew those old people could be right? The wisdom of our Elders knows no bounds). All the more reason to savour each day as it comes and to live in the moment, to be present. Which is hard for me because I often go off daydreaming and fantasizing.
On the other hand, fantasizing is what a writer does, no? Daydreaming, imagining, wondering . . . it's all part of the job and it's wonderful.
But writing isn't the only thing I do (although there are times that I wish it were!) The kitchen and its culinary magic, the artful-science of cooking and baking, holds another almost-if-not-equal place in my heart. So today I'm going to share with you a new recipe that I've just tried: Crock Pot Honey-Glazed Chicken. You can find the original recipe here (Chef Savvy is an awesome website filled with simple and easy recipes. There's no excuse not to cook with stuff like this). The following recipe is how I made it.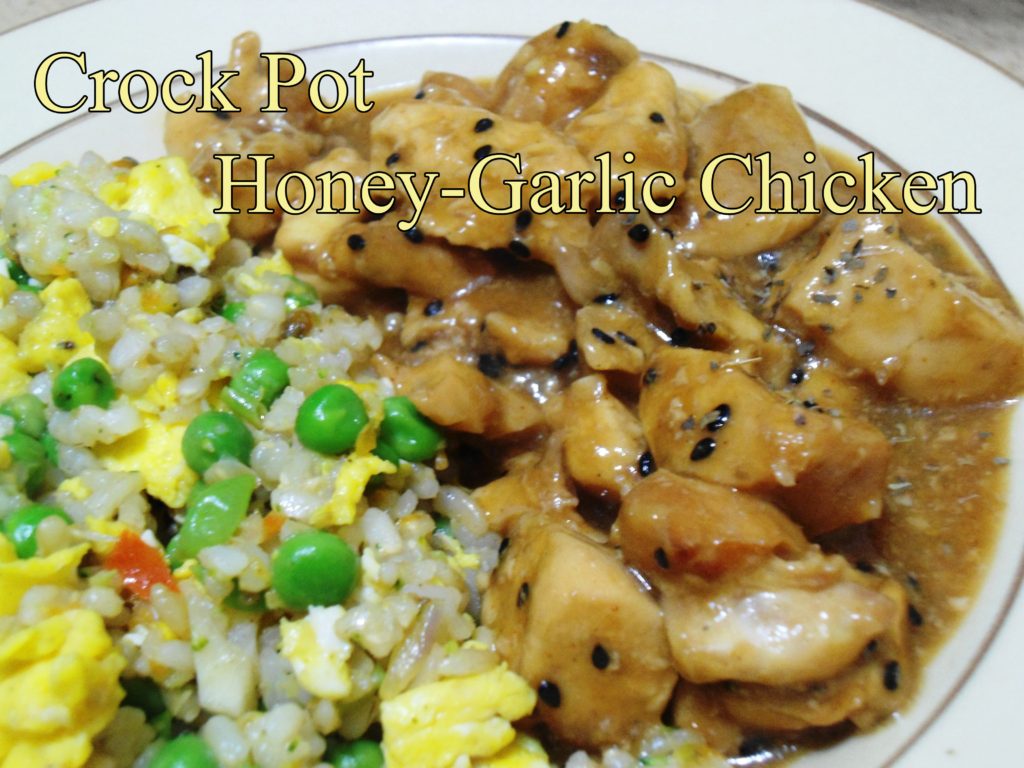 Crock Pot Honey-Glazed Chicken
Serves: 2
Ingredients:
chicken, cut into bite sized pieces (I had a combination of white and dark meat. White meat is 'lighter', but dark meat is the jucier of the two)
1/4 cup soy sauce
1/4 cup honey (raw and local, right from the farm! I never liked honey until I tried this stuff. So good.)
2 tablespoons hoisin sauce
1/2 tablespoon rice vinegar (the original recipe calls for rice wine vinegar, but alas, the regular rice vinegar was all I had on hand. In the end, it doesn't really matter)
1/2 teaspoon sesame oil (a little is all you need because baby is that stuff STRONG)
1 teaspoon ginger, grated
4+ cloves of garlic (as a rule, I always add more garlic. I made half of the original recipe, because it was only two people for dinner, but did not cut the garlic in half. If this is supposed to be honey-garlic, by Jove will there be garlic. And why not? It's awesome in so many ways)
1 tablespoon cornstarch
Sesame seeds, for serving
Instructions:
Place chicken in the crock of a slow cooker.
Mix together the soy sauce, honey, hoisin sauce, sesame oil, rice vinegar, ginger, and garlic. Pour over chicken and mix to coat. Cover and cook until chicken is cooked through (I cooked it on high for approximately 1 1/2 hours, because I was pressed for time, but the original recipe says to cook on low for 2-3 hours, depending on the size of your chicken).
Whisk together cornstarch and about 3 tablespoons of sauce from the cooker until smooth, then return to the crock and cook until thickened. Garnish with sesame seeds (I have black seeds but white ones will work just as well) and serve.
I served mine with fried rice (another recipe I got off the site, although tweaked to fit the ingredients I had on hand). This chicken was super delicious, a little sweet, a little savoury, and a whole lot of YES. This was a double score and will most certainly be making it onto the table again.
Why don't you give it a try and tell me what you think? Or why not share one of your own new favorites? I'd love to hear about it! New recipes are so much fun to try.