Happy Saturday, everyone! And guess what? Happy Spring, too! As of this past week, the calendar season of Spring has finally arrived! We're so close . . .
A week ago today was St. Patrick's Day (if you missed my post on Celtic reads, check it out here), and my family celebrated with an hearty meal of Irish dishes. Today I want to share one of them with you: apple cake. A little sweet and plenty delicious, this is great with a cup of tea or coffee, as dessert, breakfast, or afternoon snack. Really, it's good whenever.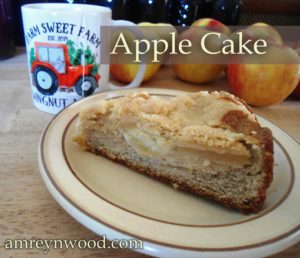 Ingredients:
1lb baking apples
1 3/4 cups self-rising flour*
1 tsp ground cinnamon
pinch of salt
1/2 cup butter, plus more for greasing
1/2 cup sugar
2 eggs
2 Tbsp milk
Streusel Topping
3/4 cup self-rising flour*
6 Tbsp cold butter
scant 1/2 cup sugar
Instructions:
Gather all your ingredients. I've just recently learned that there's a fancy French term for this: mise en place (mee-zhan-plahss (or something to that affect)) It basically means getting your stuff together. There's a special word for everything it seems, these days.
Preheat your oven to 350 degrees Fahrenheit. Grease a 9in round springform cake pan (but, I mean, if you have a square springform pan, go for it)
To make the streusel topping, sift the flour into a bowl and rub the butter in with your fingertips until it resembles coarse crumbs (or you could use a fork, if you don't feel like touching lovely, soft flour). Stir in the sugar and then set aside. (I'm thinking about trying brown sugar next time for a deeper color and flavor).
Peel, core, and thinly slice the apples; you might want to dress them with a little lemon juice to keep them from browning, too, while you prepare the rest of the batter.
Sift the flour into a bowl with the cinnamon and salt (I'm thinking of increasing the cinnamon by at least 1/2 a teaspoon next time, because I love cinnamon bunches and tons). Place the butter and sugar in a separate bowl and beat together until light and fluffy. Then add the eggs one at a time, adding a wee bit of the flour/cinnamon mixture with the second egg. Fold in half of the remaining flour mixture (be gentle, don't fold too hard or you'll make it cry). With the second half of the flour add the milk and keep folding until combined.
Spoon the batter into the cake pan and smooth the surface, then cover with the apple slices, then sprinkle the streusel over the top. Bake in the preheated oven for about an hour (60mins) or until browned and firm to the touch. Let cool in the pan.
Serve this wonderfulness all by itself or with a dollop of vanilla ice cream ─ and don't forget a hot cup of tea or coffee! The outer edge of this cake is crisp, like a crust, and the center is softer and apple-y.
*If you're like me, and don't have self-rising flour on hand, you can make some super easy! For every 1 cup of flour add 1 1/2 teaspoons of baking powder and 1/2 teaspoon of salt. Voila!
---
Try this recipe at home and tell me what you think! Did you switch it up with the sugar and spices? Pears instead of apples? How would you tweak it to your own taste? Recipes are amazing for their flexibility, very gracious to catering to the cook's preferences ─ that's one of the ways that makes cooking and baking so much fun!