Hey, everyone! Happy Last Saturday of the Month! How's your week been? Over here in the Writing Corner we've watched the Olympics just about every night since it began ─ there has been some amazing comebacks, shocking defeats, and glorious victories all across the globe, no? And now it's just about over. It's a little sad, but after so much excitement and activity (at least for the athletes, coaches, and staff) it's probably about time for some R&R . . . until all those competitions for the year begin again. I don't think I would survive all that those people do; it's simply amazing.
Here in the Writing Kitchen we do things a little differently, concocting delicious meals (sometimes. Come on, people, we can't win all the time) instead of higher speeds and technical scores. Today I'm going to share a biscuit recipe that's so easy and yummy you'll want to make it for every pot of soup, grilled chicken, and roasted meat dish from now on.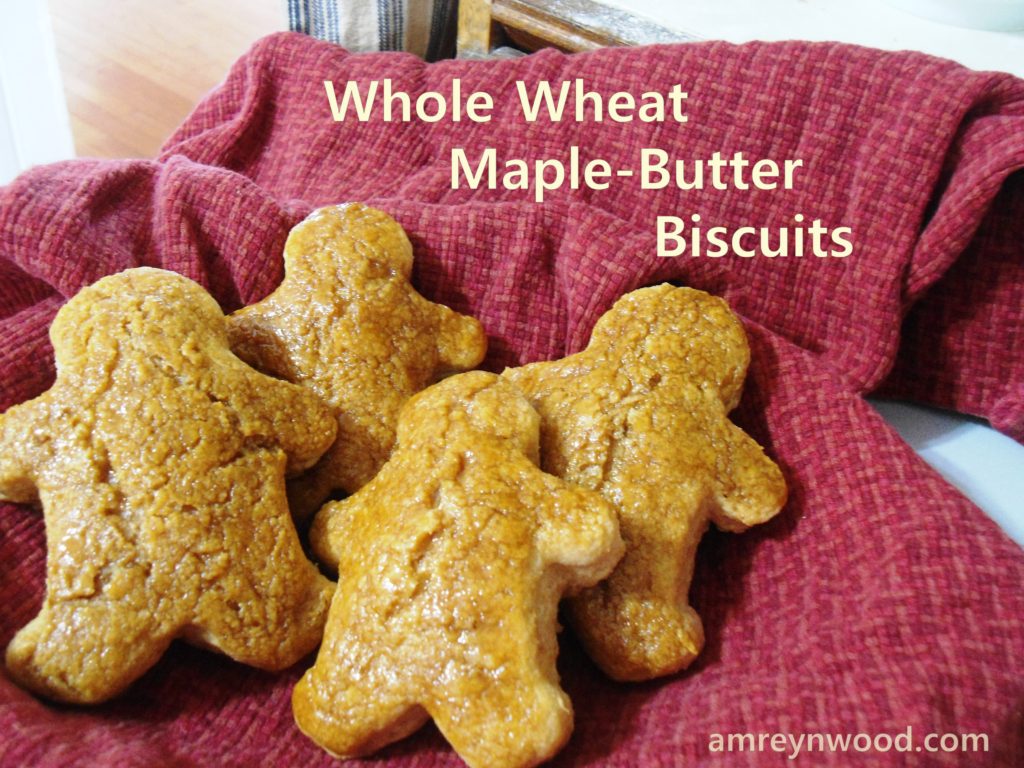 Whole Wheat Maple-Butter Biscuits
Ingredients:
1 cup whole wheat flour (I used white whole wheat)
2 teaspoons baking powder
1/4 teaspoons salt
4 tablespoons cold butter
7-8 tablespoons milk
Glaze:
3 tablespoons butter
1 tablespoon pure maple syrup (I used the stuff we make at home, and since it's maple season now it's about as fresh as it can be!)
Instructions:
Gather all the ingredients; set the oven to 450 degrees Fahrenheit. Lightly grease a baking sheet.
In a medium bowl whisk together the flour, baking powder, and salt. Cut in the butter (if you have a pastry cutter: swell; for those of us who don't: I've read that people use scissors, a pair of knives, or their fingers. I've only ever known to use a fork, myself.) Cut the butter in until it resembles breadcrumbs.
Stir in the milk only until moistened, then turn onto a floured surface and lightly knead a few times to make a cohesive dough. Try not to handle it too much because it'll make a tougher crumb, and we're aiming for fluffy.
Pat or roll the dough to about 1/2 inch thickness (if you like a thinner biscuit roll it to about a quarter inch or third, however you please).
Here's where it gets fun. Normally you'd use a regular biscuit cutter and make nice rounds, and that's fine. Or you can shape the dough into a square and cut out blocks. But since I learned that you actually can use cookie cutters on non-cookie dough I like to make shapes, and my all-time favorite is the gingerbread man cutter. So here I made man-shaped biscuits, but you can use whatever tickles your fancy. For holiday dinners you could use Christmas, Thanksgiving, Easter, even St. Patrick's Day themed cutters. Makes me want to make pumpkin and leaf shaped ones for autumn. Anyway, reroll the scraps and keep cutting until the dough is used up, then place on the baking sheet.
For the glaze, melt the butter and syrup in a small pan (or microwave, if that's your thing), then brush a layer onto the raw biscuits. Bake in the preheated oven for 9 to 11 minutes, until golden brown. Remove from the oven and promptly dab any and all remaining glaze over the biscuits while they're still hot. Serve warm or room temperature.
These biscuits are super good, with a light texture and slightly nutty flavor (because of the wheat flour). The glaze adds a touch of sweet and delicious maple flavor, too that's different from your usual butter and jam. Give this recipe a try and tell me what you think!
---
Notes:
The number of biscuits you'll get depends on the size you cut them; I got six out of this recipe.
This is an easy recipe to dock and double, whether you're cooking for 2 or 80 (bless you for feeding 80 people, though . . .)
If you're not a fan of maple syrup (I'm sorry) or just don't have any you can use honey (that version is a favorite around this house). Or just good-old plain butter. This is a super versatile recipe.