Hey, all! This week I have something really exciting to share with you. Last Sunday, fellow indie author Jenelle L. Schmidt released her new book, An Echo of the Fae, and all week we've been on a tour across the blog-o-verse spreading the word with great author and character interviews, posts about fairy tale lore, and more! (schedule here). Today is my turn to geek out over one of the coolest characters (at least in my humble opinion) in the book.
Tug on your boots and cinch up your scarves, folks, 'cause I'm pushing my Magic Button and we're diving into the frozen lands of the Winter Realm!
---
Man, is it cold out here. All I can see is snow and rocks and sky. Of the two people I wanted to meet from this story, why did both end up being from this place? Good thing I have my fur-lined hat and mittens.
I should have made an appointment. That probably would have been a good idea, considering who we're dealing with, but alas ─ I'm not that organized.
Oh! There he is. You know? This is scarier than I thought. I mean, big cats are cool and all, but I've never pictured myself actually gutsy enough to approach one. Boy-oh-boy, is he big.
And he just keeps getting bigger the closer I get. Wow, he's a pretty one, too. It's kinda hard to tell, but he's a tiger. The black fur is confusing at first, isn't it? Imagine how hard he'd be to spot if he was a white tiger! But man, those glowy blue stripes are mesmerizing, aren't they?
Okay. So. Here goes. I'm out in the open, I'm pretty sure he knows I'm here. I clear my throat. "Uh . . . excuse me. Who are you?" Best pretend ignorance for now.
The ebony-furred tiger casts a disbelieving glance my way, his ice-blue eyes haughty. Whoa.
"I am Ritioghra, the Winter King of the fae. This land of snow and ice is my realm and I guard it and all its inhabitants and care for my people. Here in Vetirheim, we must ever be on our guard from incursions, for we have many enemies." I've never seen a tiger smile before, but y'all, he's doing it. It looks super grim, too, with his teeth barred like that. "But we are strong."
I swallow hard and duck my head in a bow, hoping that looks respectful enough that he doesn't take offence. "It's an honor to meet you, Your Majesty. Might I ask another question? I've not seen much yet of your kingdom, but so far it seems fairly quiet and peaceful. I'm curious to know, what do you do in your down time?"
"Sadly, a king does not have much of this "down time" you speak of. However, I enjoy running. Feeling the bite of the wintry wind on my face, pushing my body through the snow, achieving that perfect speed where the ground speeds past beneath me and thoughts disappear lost in the constant strain of muscle and breath, that is pure freedom.
"I also enjoy sparring with my elite guard, though I must always hold myself back."
"I'm sure, and that is very kind of you." Oh, I hope he doesn't take that the wrong way. Good, he's not snarling at me. I'll press on . "Your Majesty, would it be remiss to ask when you stared down this path you're on? What sparked you to chose it?"
"I am young to be the Winter King. While my counterparts in Faerthain have been rulers for thousands of years, I was only recently raised to my position. Ten years ago, my father, the Winter King before me, fell in battle against the Salthaens, our most bitter enemies.
"Though I was young when I took the crown, I have tried to rule well. I have made mistakes, but I have learned from them. I have recently been attempting to build an alliance with the Summer Court, our closest neighbors, by asking King Oberon for his daughter's hand in marriage, but he has consistently refused to even discuss the matter.
"However, my father passed to me the secret location of the Everflame, and I have claimed it for Vetirheim. Perhaps with its power we shall not need any allies in the inevitable war with Salthea."
I nod solemnly, trying to take that all in. That's quite a dish on his platter. Makes me feel for the guy. I have to wonder if he's lonely, maybe that's why he's talking with me. Still, I don't want to push my luck. After all, he's not a tame tiger. "That seems like a lot of responsibility. In light of all that, is there something about yourself that you'd like to change or be different?"
"There are things about my life I would change if I possessed the power. I might wish my father back to life. He was a good king, better than I. Or I might wish for a strong wife to rule at my side. But to answer your specific question, no. I have no wish to change anything about myself."
"I see. I'll dare say that I'm a bit envious about that last bit, and I admire your strength in saying so. Now, if you'll excuse me," I bow again, maybe too hastily? "I should like to be going now. I'm not so well suited to the cold, but it was a pleasure and honor to speak with you." I press my Magic Button and blip out of sight before he can say or do anything, which might be rude, now that I think about it, but there's no going back, now!
---
That was fun, wasn't it? Now that we're safe and warm again? Ritioghra is an interesting character, though perhaps now a little less mysterious than before. Based on what he's shared with us, I'd love to read a story about him and his journey! He does play a unique roll in Echo's quest, though, and if you're as curious as yours truly, now is the perfect opportunity to pick up a copy and find out!
Here's a bit about the book:
Echo enjoys the peace and solitude of the Faeorn forest, regardless of how strange spending time in the "haunted" wood seems to others.
But on the cusp of her thirteenth birthday, the discovery of a family secret reveals why Echo has never been drawn to the sea like her mother. This discovery shakes the foundations of her world and sends Echo on a quest, not merely into the forest, but into the heart of the fae-lands themselves, to rescue the sister she didn't know existed.
Elves, dragons, and fairy courts will put Echo's wit and resolve to the test. But
with time running out for her sister, will Echo even be able to save herself?
A fairytale adventure perfect for fans of The Secret of Roan Innish and The Girl
Who Drank the Moon.
---
And here's a bit about the mastermind behind the awesomeness: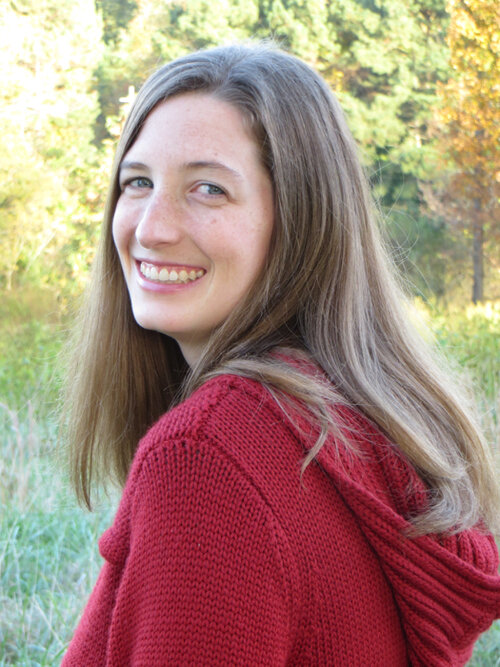 Jenelle first fell in love with stories through her father's voice reading books aloud each night. A relentless opener-of-doors in hopes of someday finding a passage to Narnia, it was only natural that she soon began making up fantastical realms of her own. Jenelle currently resides in the wintry tundra of Wisconsin — which she maintains is almost as good as Narnia—with her
knight-in- shining armor and their four adorable hobbits. When she is not writing, she homeschools said hobbits and helps them along on their daily adventures… which she says makes her a wizard.
Follow Jenelle around the interwebs to get news about her latest releases and
writing adventures: WEBSITE
FACEBOOK
TWITTER
INSTAGRAM
GOODREADS
NEWSLETTER SIGN-UP
AMAZON AUTHOR CENTRAL