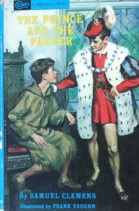 Title: The Prince and the Pauper
Author: Samuel Clemens (aka Mark Twain)
My Rating: 4 of 5
---
This treasured historical satire, played out in two very different socioeconomic worlds of 16th-century England, centers around the lives of two boys born in London on the same day: Edward, Prince of Wales and Tom Canty, a street beggar. During a chance encounter, the two realize they are identical and, as a lark, decide to exchange clothes and roles–a situation that briefly, but drastically, alters the lives of both youngsters. The Prince, dressed in rags, wanders about the city's boisterous neighborhoods among the lower classes and endures a series of hardships; meanwhile, poor Tom, now living with the royals, is constantly filled with the dread of being discovered for who and what he really is.
---
My Thoughts:
I have heard of this story and seen variations of it done for years, but I'm the kind of person who likes to find the original of a classic in as unadulterated a form as possible (outside of original foreign languages, that is). So when I found this copy, copyrighted in '69 and published by Grosset and Dunlap (who, as it happened, also did my copy of Jungle Tales of Tarzan) I knew I had to have it and find out the 'true' story of the Prince and the Pauper.
I loved it. Set in medieval England just before the reign of King Edward the VI, it follows the misadventure of a certain poor boy by the name of Tom Canty and a certain Edward VI, Prince of Wales, who, had they been born identical twins could not have looked more similar. A seemingly chance encounter wildly reverses their positions, and we get to follow along and see how each copes with their drastically foreign environments, learning valuable lessons along the way.
The image of sixteenth century London is vivid, picturing both the opulence of the royal world and the dire straits of the plebian community, who suffer perpetually under the unjust English law ─ which is ragged on often enough. The hardships young Edward endures, and the troubles suffered by those who endear themselves to him along the way, reveal to him the truth of wonton tyrannical rule. Meanwhile, the lavishness of royal life nearly blinds Tom Canty of his good heart, but in the end realizes all the posh and pomp is meaningless and empty.
The dialogue is chocked full of 'thee's and 'thou's and 'for sooth's and whatnot (like I said, unabridged), but the writing is clever and speckled with rather frank humor. The characters are well portrayed, insomuch that I felt frustrated for both Tom and Edward when they insisted on their reversed identities and everyone around them persisted in assuming they were mad. Suddenly and inexplicably so. For the length of it, Edward expressed resentment toward Tom and what he must be doing, usurping the throne, and throughout all the story I felt fear for what might befall the pauper boy.
And then there's Miles Hendon. Dear, dear Miles Hendon. An escaped POW, he comes into town in time to save the mistaken Edward from Tom's abusive father and proceeds to take the lad under his wing. He is an extraordinarily kindhearted and noble soul who gets abused both physically and emotionally, but he takes it like a man with endearing stoicism for Edward's sake and you can't not love him for that.
This story is yet another example that goes to show that just because it's old, doesn't mean it can't keep up with the bullet train of this present era.