October may very well be the best month of the year, for not only is it nestled within my favorite season of the year, autumn, it also happens to be National Book Month.
An entire month, dedicated to the amazingness of books. Of reading and enjoying books. This reminds me of a quote I once saw that still makes me laugh even years after first seeing it: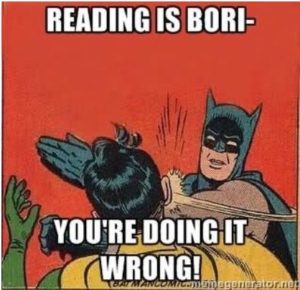 You go, Batman.
Really, perhaps it is because I'm an incurable reader, but I can't quite understand how some people just don't like reading. Books are an incredible thing, both fiction and non-fiction. Reading has become how we pass on information and stories. Without reading, without books, we are a people lost and fallen to the darkness of ignorance and the drudgery of mundane existence.
Books are portals to other places, other times, giving a reader the opportunity to go beyond and see, feel, and experience more. And sometimes, hidden inside these adventures, we find a lesson for our own lives. Don't give up. Keep trying. Don't lose hope. The easy road doesn't always (rarely will ever) lead to a good place. Rise above. Have courage.
That we have a month celebrating books is a great thing, and for all of us readers out there it's positively spectacular. Spread the love of books this month and share with others just how awesome these blocks of paper and ink really are. That just two simple ingredients can sway a soul is truly something magical.
So . . . what are you reading?