Hello! I'm back in, and boy has it been quite a week. I have for you today another topic of interest to expound upon: the writing process.
To be blatant, there are as many processes for writing as there are people who write. Every individual is different (hence 'individual') and the method one goes about something is unique to them. It's also a learning process, at least it was for me. When I began writing I had no real education on 'how' to write a story, I just began writing what I wanted to say, having gained some capacity for prose from reading. See, reading stokes the fires of imagination and creativity, and if you read a LOT, like I did (and so so many others) you pick up on things. Albeit, some people are born with the 'writer affinity', a talent for stories they were simply made to have, but you don't become awesome at it without work. Taking something you enjoy doing and developing that to an even greater level of skill is a joy not only for you, but those around you. I began as a total and complete amateur. I loved stories and I loved the idea of sharing the stories I have, so I wrote without having any real plan or 'process' in mind. Only after I'd been doing it for a while, peeking into the world of other writers and the vast amount of information they shared about their own experiences and whatnot, did I begin to realize the truth: apparently writing wasn't so simple as I thought it was. There's actually a lot of forethought and planning that goes into a really good story, but then, if you think about it, every great piece of art has a bucketload of blood, sweat, and tears behind it.
My own writing process is, I think, still under development. I haven't hashed out a system of operation down to the wee details yet. TJT has truly spurred my growth, though, from where I began so very long ago. Some people ask if you write more by logic or intuition/ purpose or instinct, or some combination of the two, and I'd have to say that, for me, it would have to be the lattermost. It's the intuition that directs where and how I use my logic ─it's the idea of "I want to do this" or "I want this to happen" and then figuring out how to make that a reality in a convincing way. I like planning things out, too, and with whatever project you're working on, plotting is essential (otherwise you make stupid/silly mistakes that bite you in the butt later). I do like to develop a plotline, as it helps give me a direction for the story and keeps me on track, because digression is a disease. A malady. An icky germ. That's one thing I appreciate about the editing part of the writing process, you can go back and see the yucky parts, the unnecessary parts ─ the dross ─ and expunge. Sometimes it's painful, yes, but sometimes good things aren't painless (think about getting a tooth pulled, or surgery, or budgeting ─ not really painless, but ultimately beneficial).
So, to summarize the above blather, my writing process is, so far, thus: I get an idea for a story, take that raw material, and heat it in the fires, plotting, developing (the analogies that can be used for this are numerous, quite, quite numerous). What helps me in the actual writing of the story is to picture it as a movie playing. That was a tip I came across ages ago, and it's really helped me visualize what's going on and to describe what I see. I've found myself narrating in my dreams, sometimes. I've found  myself watching movies and thinking about how I would put it into words (I'm bad at watching movies). I plot and I visualize and I write everything down, because if you don't write it down you'll forget and hate yourself. At the same time, writing the story and being immersed by it also helps me further develop my plot, so the two actually go hand-in-hand. My plots are very flexible and basically cover key points or events that I want to include, kind of like the dots on one of those connect-the-dots games. When all those smaller pieces are connected in the narrative, I love being able to stand back and see this bigger picture. It's very rewarding.
---
Don't forget! There's a giveaway running for A Journey Begins, enter to win one of seven copies + a super awesome series bookmark.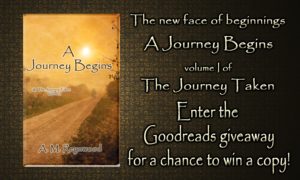 ---
Also, coming up next week, there'll be running a promotion on Amazon for a Kindle version! Available copies are unlimited, but it'll only last the week, so no procrastinating. If you've been waffling, take the opportunity to snag the first bite of this sweetness while you can! It begins on the 23rd, so mark thou calendars, fine folk, and await the day with the appropriate anticipation.