Greetings, ladies and gents! How has everyone's February been? I can hardly believe we're on the last legs already, myself ─ how time flies!
In today's post I'm going to talk about the title of The Journey Taken, which is a mild story of a prolonged struggle and ultimate defeat. Defeat, you say? Yes. And this is the way of it:
When I first began working on this project I didn't know right off the bat what I wanted to call it. Titles are fickle things that way, I've discovered, and I wanted it to be a good one. However, while developing the plot, characters, and story in general, I needed to call it something, so for the time being I referred to it as 'The Journey Taken story', because that was a big, overarching theme in the narrative ─ that of the company journeying from this place to that place and then the next, and I'd know what my notes were referring to (because my notes are always a jumbled up, messy, disastrous nightmare). I thought I'd come up with a different series title later on. Well, it didn't happen, though I tried, and after a year passed I had volume one ready to publish and I still didn't have anything. It was like by brain went dead the moment it turned to the subject, either unwilling or unable to craft something else. I couldn't come up with a different series title, so, feeling defeated, I kept 'The Journey Taken'. I'll admit it doesn't sound very catching, but it does capture the essence of what the story is about, I think. Not just the physical journey of walking from point A to point B, but also the metaphysical journey the characters take ─ the maturing they undergo during the hardships and trouble they face, the emotional struggles, and the personal development they experience as the story progresses and the stakes increase. It's a journey not only taken to save the current world from a destruction of fire and chaos, but a journey to bring each individual to their fullest potential, to test them and make them stronger than they were before ─ to realize who they are, what they're capable of, and what their purpose is.
So, in that sense, I think 'The Journey Taken' is a rather apt title for this adventure.
---
Don't miss out on the opportunity to enter for a chance to win a copy of volume two, The Northward Expedition! The giveaway ends in seven days, at the end of the month; each copy is autographed and comes with a super cool series bookmark.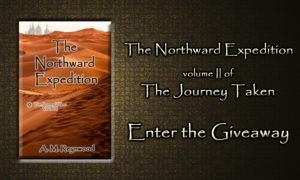 ---
Also, beginning on Thursday, the 23rd, the ebook copy of The Northward Expedition will be FREE on Amazon until the following Monday, so check it out!